The Nice est un groupe de musique britannique des années 1960, connu pour son mélange de rock psychédélique, de jazz et de musique classique qui annonce le rock progressif.
Le groupe est constitué en 1967 par le manager Andrew Loog Oldham pour accompagner la chanteuse de soul P. P. Arnold, ex- Ikettes de Ike & Tina Turner Revue. Il se compose à l'origine du pianiste et organiste Keith Emerson, du bassiste-chanteur Keith "Lee" Jackson, du guitariste et chanteur David O'List et du batteur Ian Hague qui sera éventuellement remplacé par l'ex-Mark Leeman Five Brian Davison.
The Nice acquiert rapidement une popularité propre et se détache rapidement de la chanteuse afin de voler de ses propres ailes. Il enregistre son premier album,
"The Thoughts of Emerlist Davjack"
, la même année. Le son est encore essentiellement psychédélique, mais démontre une volonté d'expérimentation, notamment la reprise du Blue Rondo à la Turkde Dave Brubeck.
Au-delà de la virtuosité aux claviers d'Emerson, Lee Jackson se distingue en jouant de sa basse avec un archet et O'List, en jouant de la trompette en plus de la guitare.
Une tournée longue et populaire s'ensuit, suscitant la controverse lorsque Emerson brûle un drapeau des États-Unis sur scène tandis que le groupe joue un arrangement satirique de "America" de Leonard Bernstein, qu'Emerson décrit comme étant la toute première protest song instrumentale. Elle inclut des citations de la Symphonie du Nouveau Monde de Dvořák.
David O'List quitte les Nice durant l'enregistrement de son second album, "Ars Longa Vita Brevis", qui sort fin 1968.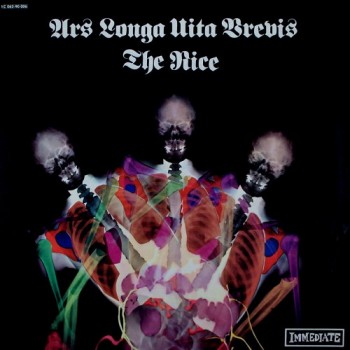 Le groupe décide de poursuivre en trio, après avoir auditionné quelques guitaristes dont Steve Howe (futur Yes). L'absence de guitare et la domination de Keith Emerson donnent un son caractéristique au troisième album du groupe, simplement intitulé Nice (1969).
Sur scène, le groupe est réputé pour son comportement violent et, musicalement, pour ses reprises (My Back Pages de Bob Dylan, Hang On to a Dream de Tim Hardin) qu'il transforme en longues suites truffées de citations classiques.
L'apogée du succès artistique du groupe est probablement la suite Five Bridges, interprétée en octobre 1969 avec un orchestre complet dirigé par Joseph Eger à l'occasion du Newcastle Arts Festival. Le titre fait référence aux cinq ponts de la ville qui enjambent la Tyne (deux de plus ont été construits depuis). Un album en est tiré en juin 1970.
En 1969, Emerson rencontre le chanteur-bassiste de King Crimson, Greg Lake, durant une tournée aux États-Unis et décide de former un nouveau groupe avec lui, sabordant The Nice. Le batteur d'Atomic Rooster, Carl Palmer, rejoint Emerson et Lake, et le nouveau groupe prend pour nom Emerson, Lake & Palmer.
Lee Jackson et Brian Davison forment respectivement Jackson Heights et Every Which Way en 1971, puis se retrouvent en 1974 au sein du groupe Refugee avec le claviériste Patrick Moraz.
Lee Jackson enregistre quatre albums avec Jackson Heights, un rock plutôt agréable et un véritable défi car le groupe tournait en trio sans batteur. Après l'échec de Every Which Way, Brian Davison tournera avec Gong avant de rejoindre Refugee. Il est décédé le 15 avril 2008.
The Nice se reforme (sans David O'List) en 2002 pour une tournée, dont est tiré un album live, Vivacitas.
Membres :
Keith Emerson : orgue, piano, chant
Keith « Lee » Jackson : basse, guitare, chant
David O'List : guitare, chant, trompette (1967-1968)
Brian « Blinky » Davison : batterie, percussions
DISCOGRAPHIE :
1967 : The Thoughts of Emerlist Davjack (Immediate)
1968 : Ars Longa Vita Brevis (Immediate)
1969 : Nice (Immediate)
1970 : Five Bridges (Charisma)
1971 : Elegy (Charisma)
2004 : Vivacitas (Sanctuary)
2009 : Live at the Fillmore East December 1969 (Virgin)
ÉCHANTILLONS SONORES
cliquez sur les images des pochettes pour accéder aux échantillons sonores
(tiré de l'album "The Thoughts of Emerlist Davjack")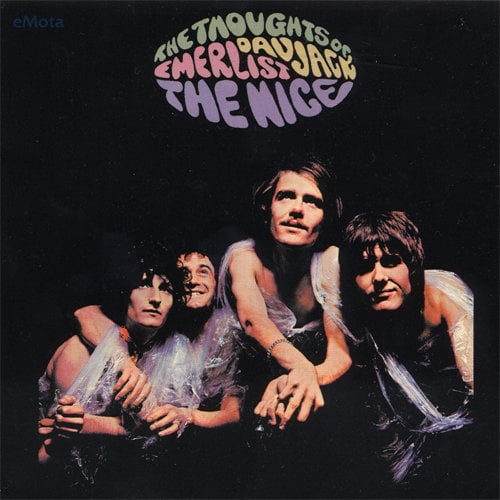 (tiré de l'album "The Thoughts of Emerlist Davjack")
"Ars Longa Vita Brevis" (1968)
(tiré de l'album "Ars Longa Vita Brevis")