Birth Control est un groupe allemand de Krautrock, fondé en 1968 à Berlin. Le groupe est surtout connu pour son hard rock très progressif et ses pochettes d'albums très provocatrices. Le nom du groupe est une réaction à la désapprobation de la pilule contraceptive par le pape Paul VI.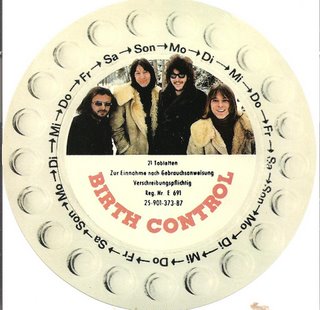 Birth Control naît en 1968 à Berlin de la réunion de deux groupes, The Earls et The Gents. Après quelques changements de line-up, un premier album, « Birtcontrol » sort en 1970. Le groupe impressionne par son style hors du commun, sorte de mélange entre le rock progressif, hard rock et certains éléments empruntés au Krautrock.
Son troisième album, « Hoodoo Man », reste le plus fameux, et contient en particulier le morceau Gamma Ray, un classique du genre.
Les années 70 restent très prolifiques pour le groupe, qui publie pas moins de 7 albums, et acquiert une renommée dans toute l'Europe. On les comparait souvent à Deep Purple à ses débuts, en particulier pour l'utilisation quasi-permanente de l'orgue.
Au début des années 80, le groupe est en grande difficulté, sa renommée s'en va décroissante, en particulier à cause de ses deux derniers albums Count On Dracula (1980) et Deal Done At Night (1981), de piètres qualités, aboutissant à la séparation des musiciens en 1982.
En 1993, le groupe se reforme sous l'impulsion de Bernd Noske, batteur du groupe depuis 1968. Depuis Birth Control continue de sortir quelques albums et d'écumer les salles de concerts de toute l'Europe, comme dernièrement en 2008 au festival Sweden Rock.
DISCOGRAPHIE :

Albums studio :
- Backdoor Possibilities (1976)
- Count On Dracula (1980)
- Deal Done At Night (1981)
- Two Worlds (1995)(remix+inedits)
Albums live :
Compilations :
- Believe In The Pill (1972
- The Best Of Vol. 2 (1978)
- The Very Best Of (1990)
- Definitive Collection (1996)