The Animals est un groupe de rock britannique fondé en 1962 à Newcastle-upon-Tyne et qui s'est séparé une première fois en 1967. Au même titre que les Rolling Stones, cette formation a été l'une des pionnières du British Blues Boom et a contribué à importer en Europe le rhythm and blues noir américain.
Petite Histoire...
Price, Steel, Chandler et Valentine jouent chaque fin de semaine dans un petit orchestre de jazz baptisé Alan Price Combodu nom du chanteur, également membre le plus influent du groupe. Rapidement, ils sont rejoints par Eric Burdon, un autre chanteur.
Passionné de blues et de rhythm and blues, Eric Burdon fait évoluer le groupe dans une direction qui correspond plus à ses aspirations musicales. Ils reprennent les plus grands bluesmen américains et s'affirment comme un groupe de scène remarquable. Leur sauvagerie sur scène, où se dégage notamment la voix âpre et puissante de Burdon leur vaut rapidement le sobriquet d'Animals, qui devient leur nom officiel à partir de 1963.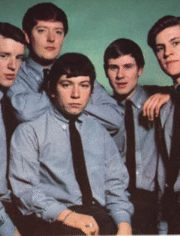 Remarqués lors d'un concert à Londres en 1964, les Animals passent en studio où ils enregistrent notamment le fameux The House of the Rising Sun en 1928 via Josh White), reprise d'un morceau traditionnel, ici sublimé par la voix de Burdon et les nappes de claviers de Price. Énorme succès, ce titre, ainsi que d'autres, leur permet de faire jeu égal avec les Beatles et les Rolling Stones dans les charts.
En 1965, le groupe enregistre l'une des premières chansons dont le thème soit écologique, et qui déplore la pollution : We gotta get out of this place. Mais la même année Price quitte le groupe. Peu de temps après, en 1966, suite à des remaniements infructueux, Burdon dissout The Animals. À partir de cette année, Eric Burdon et Alan Price se feront concurrence dans les Hit-parades.
En 1976, le groupe initial se reforme à l'initiative de Chas Chandler sous le nom The Original Animals le temps d'un disque intitulé avec un humour tout britannique Before we were so rudely interrupted, titre en clin d'œil à un éditorial célèbre où un journaliste londonien faisait allusion à la destruction de son bureau par le Blitz.
En 1983, le groupe original est à nouveau réuni de façon éphémère, avec pour résultat l'album Ark, dont plusieurs titres eurent les honneurs des charts. Une tournée mondiale s'en suivit avant que le groupe ne se sépare une fois de plus.
- The Animals (1964)
- The Animals on Tour (1965)
- Animal Tracks (1965)
- Animalisms (1966)
- Winds of Change (1967)
- Eric is Here (1967)
- Every One of Us (1968)
- The Twain Shall Meet (1968)
- Love is (1968)
- Before We Were So Rudely Interupted (1976)
- Ark (1983)
- Rip it to Shreds : Their Greatest Hits Live (1984)
- Roadrunners! (1990)
- The Complete Animals (1990)
- Interesting life (New recordings of their classic hits) (2000)
ÉCHANTILLONS SONORES
cliquez sur l'image des pochettes pour accéder à l'échantillon sonore